Invite friends and win prizes worth €1600!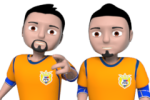 Dear friends,
the Great Referral Campaign has just started and it will last until the end of August! Invite people into the game, earn extra credits and win awesome prizes in the total worth of €1600. The reward for a referral reaching manager experience of 11 in one sport has been increased from 3 to 10 credits for this campaign. That means you can earn up to 30 credits for each referral!
Moreover, you also compete for prizes sponsored by PowerPlay Manager in cooperation with our valued partner www.onlinegamesector.com.
The competition is divided into 2 parts. The main part is the race to the highest number of verified referrals. The top three managers at the end of this race will automatically win the first three prizes:
1st prize: XBOX 360 + KINECT
2nd prize: Nokia Lumia 710
3rd prize: PlayStation Portable
But even if you don't win in this main competition, you are still in the running in our lottery. Depending on the number of verified referrals you gain, you will enter the lottery for 20 additional prizes.
category 1 - number of verified referrals gained: 1-10 – drawing 5 winners of: 200 credits
category 2 - number of verified referrals gained: 11-20 – drawing 5 winners of: 350 credits
category 3 - number of verified referrals gained: 21-40 – drawing 5 winners of: game for XBOX 360
category 4 - number of verified referrals gained: 41+ – drawing 5 winners of: PlayStation Portable game console

That means you can win even if you invite just 1 person to the game. Remember that to gain a referral, the new manager must register via your referral link. You can find your referral link and all the details about the Great Referral Campaign here. The evaluation of the competition and lottery will take place mid-September.
You can also use our new feature to invite friends to a league of your choice to gain referrals. You can use this feature by clicking the icon next to a vacant team in one of the lowest 2 league levels. But watch out because the reservation can only be used by a manager who is registered in the country where the league place is reserved.
Good luck!
Author:

vlady
-
Translator:

vlady
Share on Facebook
Share on Twitter
Share on MySpace