Last chance to win in the referral campaign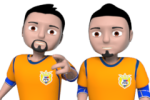 Hey folks,
the Great Referral Campaign which was launched at the beginning of this month is coming to a close and you have only a few days left to get into the running for great prizes sponsored by PowerPlay Manager and our partner onlinegamesector.com. The event ends this Saturday, August 31.
Remember that you only need 1 verified referral to be in the running for 200 credits. If you already have some referrals, use the final few days to get to higher category. If you gain 11 verified referrals, you are in the running for 350 credits. Gain 21 verified referrals to be in the running for a game for XBOX 360 or 41 verified referrals to play for PlayStation Portable game console.
You can still also win one of the main prizes:
1st prize: XBOX 360 + KINECT
2nd prize: Nokia Lumia 710
3rd prize: PlayStation Portable
You can find the current leaderboard as well as all the competition rules here.
So don't wait any longer and invite new people to the game before it's too late!
Author:

vlady
-
Translator:

vlady
Share on Facebook
Share on Twitter
Share on MySpace