Get more credits for the same price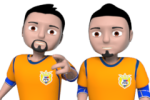 Hi friends,
we have an early Christmas gift for you, a special offer that hasn't been here for a while. From now until November 29, 2013 (08:00pm CET) you can get up to 20% extra credits for the same amount of money. The offer applies for payments from €23.90 and higher and for the following payment methods: Wire transfer, Credit or debit card, PayPal and Skrill.
Here are the details:
for €23.90 you get 200+20 = 220 credits (10% bonus)
for €35.90 you get 350+53 = 403 credits (15% bonus)
for €135.90 you get 1400+280 = 1680 credits (20% bonus)
You can also get bonus credits if you buy credits via paysafecard:
for €25 you get 200+20 = 220 credits (10% bonus)
for €50 you get 420+84 = 504 credits (20% bonus)
So don't hesitate and take advantage of this unique offer to bulk up you credit balance or to get ready for basketball, 'cause the release date is getting closer!
That would be all for now.
Have a nice day.
Author:

dario
-
Translator:

dario
Share on Facebook
Share on Twitter
Share on MySpace