Big changes coming up!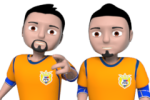 Dear friends,
in the next few weeks and months, you can look forward to some major changes on PPM. We are finishing some long expected features that will bring a new spark and excitement into the game. There are new challenges ahead and it's going to be up to you and your managerial skills how you cope with them.
You will notice the first of these changes on the first day of sponsorship offers in hockey which are coming up next week. Instead of one offer, you will get three every day. Each offer will be different and the decision will not be so straightforward any more. You will get one offer with regular weekly payments like you have now. Then there will be an offer from a sponsor that will pay out a financial bonus every time you win a league game. The third sponsor will give you a choice. You will be able to pick your target position in the league and if you achieve this position, you will get your bonus.
The second and third type offers will include weekly payments as well, but they will be reduced. It will be up to you to consider the strength of your team and your opponents and to pick the best contract for your team. You could gain a lot by making the right choice.
But that's not all. If you find out that your contract with bonuses is not working out for you, you can change it midway through the season. You can either switch to a regular contract or change your target position.
You can find more detailed information on this new feature in the guide.
Of course, you can expect the same in soccer and handball at the end of this season.
But that still isn't all that we have for you. We have three more major updates up our sleeve. You might have read about the draft in the news a few months ago. The plan is to launch player draft next season in each sport. We also have one PRO feature that will make practice setup a lot easier and more convenient and one change regarding the influence of game importance on such things as experience, chemistry and attendance. More about that later.
Implemented suggestions
We haven't forgotten about the small things either. We have implemented a few more of your suggestions. You can now view the number of days until the end of construction works on your tablet, cellphones and other touchscreen devices. Just tap the under construction icon to view the info.
If you use a market agent to bid on a player or a staff member, you will now get team news with the report of the market agent after the bidding deadline. This is done so that you can keep track of the agent even if you don't win the auction.
In soccer you can now delete all substitutions with one click. This might be useful if you tend to set up a lot of substitutions.
That's all, have a nice day!
Author:

vlady
-
Translator:

vlady
Share on Facebook
Share on Twitter
Share on MySpace