How did I lose?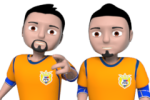 Hi friends,
you have all certainly asked yourself that question. We all know that feeling of frustration when we lose a game that we thought we should have won. We have a better team than our opponent and we are sure our tactics are set up correctly. Or are they? Is your team really as good as you think? Are you sure you are using the best tactics? Well, now you can find out with our new feature called Expert's estimate!
As we have promised in the video published at the launch of basketball, we bring you this brand new feature to show you how good your team really is.
How does it work? It's quite simple. On the day when you play the game, you can get an expert's estimate of your chances of winning. What happens is that the engine will simulate 100 games against your opponent. The lineup and tactics selected for that game by both teams are used in this simulation. The result of this simulation is then presented to you as expert's estimate.
But beware, because once you get the estimate, you cannot make any changes to your lineup or tactics until the game is played. All the pages related to tactics and lineup will be locked. For those of you who play handball or basketball, it means that you could block your option to set up tactics for games played on the same day before the estimated game. This restritction is implemented in order to prevent use of this knowledge to gain an advantage over your opponent.
But that's not all! Expert's estimate can also be used after the game, but only on the day when the game was played. Does the final score seem weird to you? Did you do something wrong or was it just bad luck that you lost? You can find that out with expert's estimate.
Expert's estimate is a PLUS pack feature and it costs 10 credits. Due to its nature, it causes a considerable load on the server and therefore it cannot be accessible for free. Nevertheless, we believe many of you will find it useful.
Option to delete messages
We are continuing with implementing your suggestions. One of those that kept appearing was the option to delete private messages from your mailbox. As of today, you can do that and tidy up your mailbox.
That's all, have a nice day!
Author:

vlady
-
Translator:

vlady
Share on Facebook
Share on Twitter
Share on MySpace