Get more credits for SMS payments!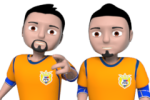 We have upgraded our SMS payment option in cooperation with our partner Fortumo. Thanks to the change we can now offer SMS payments in 82 countries which is 44 more than before!
But that's not all! In most countries where SMS payments have been available before, the rates are now better and you can select from more options. That means you can get more credits for your money. Just visit the PRO Zone and select the Mobile payments option to see for yourselves.
Have fun!
Author:

vlady
-
Translator:

vlady
Share on Facebook
Share on Twitter
Share on MySpace