Christmas Challenge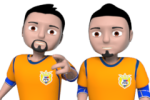 Hi folks,
the Christmas Challenge is back! Collect gingerbread from instant challenges and then exchange them for rewards. It's up to you which rewards you choose.
Don't know how to play instant challenges? Just hit the Play now button at the top of your screen when you are in your team. Not only can you earn gingerbread, but you can also compete in the daily and weekly leaderboards as per usual.
The gingerbread exchange shop will be open all the way until January 6, 4pm CET. Make sure you play every day and get as many rewards as you can.
Happy holidays to all of you!
作者:

vlady
-
翻譯者:

vlady
在Facebook分享
在Twitter分享
在MySpace分享