Win Credits in FIBA World Cup Prediction Game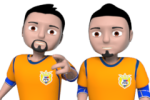 Hi folks,
the prediction pool is back! You can once again put your basketball knowledge to the test and win credits by correctly predicting the results of the 2023 FIBA Basketball World Cup. Just sign up, dust off your crystal ball and start predicting!
Special thanks to the Serbian captain Marinko1989, who was the initiator of this idea and was able to get contributions from various PPM team members to make it happen.
Good luck!
作者:

vlady
-
翻譯者:

vlady
在Facebook分享
在Twitter分享
在MySpace分享