PLUS pack features for free - volume 2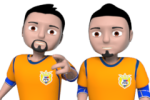 Dear friends,
last week we released an update that made 5 PLUS pack features available for free for everyone. This week we have made three more PLUS features available for free.
The first of these features is the permanent purchase of one of the predesigned ice or court surface paintings. Up until now, if you applied an ice or court surface painting to your arena, you paid the standard fee of 4 or 5 credits, but if you changed the painting to something else and then wanted to go back to the previous one, you had to pay for it again. Or you had the option to purchase that painting permanently for another fee. Now it's much simpler and if you purchase a painting once, you don't have to pay for that painting again, even if you change to a different one.
From today you can also update the statistics of your players in the hall of fame for free. This can be done in the player's exhibit by clicking a button on the right hand side.
The third feature which is now available for free is the option to view any game broadcast, live or recorded, even if you don't have a PRO pack and even if your team does not play in that game.
We also have some good news for those of you, who have lost your teams due to inactivity. Now you can recover them for just 20 credits. The original price was 100 credits. Please note that you can only recover teams that have not been taken over by another manager and that haven't been removed from the league structure. Also, if you created a new team in the meantime, you cannot recover the old one.
But we are not just taking away stuff from the PLUS pack. We have created a feature that will make your draft preparation a matter of a few moments. This new feature will instantly scout all players that you added to your scouting list. If you combine this new feature with the automatic tool that adds players to the scouting queue, you will only need a few clicks to get ready for the draft. The price of this feature is the same as for the usual instant scouting which is 3 credits per player.
The last bit of news concerns the hockey game broadcast. Now you can set in your team settings if you prefer watching the animated or the text broadcast. If you choose the text option, you will be automatically redirected to the text broadcast every time you click a link to watch a game.
That's all for now, have a nice day!
Penulis:

vlady
-
Penterjemah:

vlady
Kongsi di Facebook
Kongsi di Twitter
Kongsi di MySpace