Get free credits!

Invite new managers to the game and get up to 12 credits for one referral!
Notepad
This feature is part of the PRO pack!


Next match
HK avantasia
League match
05.12.2023 19:00:00
Today (07:20)
Free agent presented his demands.
---
Our player has presented his signing bonus demands. We have 7 days to decide whether we fulfill his demands or not. Because this is a restricted free agent, our club will receive a compensation in the amount of 50% of the signing bonus in case we decide not to fulfill the player's demands.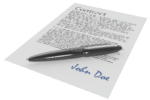 | | |
| --- | --- |
| Player name | Jaroslav Tulček |
| Status | Restricted Free Agent |
| Contract duration | 336 |
| Expected salary | 632 |
| Requested signing bonus | 0 |
| Bonuses awarded | 0 |
| Signing bonus discount | 0% |
| Compensation amount | 0 |
Today
Yesterday
2. December