Get free credits!

Invite new managers to the game and get up to 12 credits for one referral!
Notepad
This feature is part of the PRO pack!


Next match
Kysta Red Devils
League match
21.09.2021 19:00:00

Expert's estimate
Price in credits: 10

Today (06:08)
Our player will become a free agent!
---
Our player's contract will expire in 21 days. Because he will become a free agent, he may start accepting proposals from other teams in 7 days. If we want to keep him, we should reserve a certain amount of money for this purpose.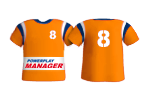 | | |
| --- | --- |
| Player name | Pavol Lisák |
| Status | Group 2 Unrestricted Free Agent |
| Bonuses awarded | 0 |
| Signing bonus discount | 0% |
Today
Yesterday
19. September
18. September