Welcome to handball beta version!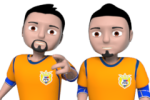 Dear friends,
welcome to the beta version of handball, the third sport on PowerPlay Manager. Feel free to browser through the game and report any bugs that you find in our handball forums. We will do our best to resolve all the issues as soon as possible so that we can restart the game soon and start the full version.
When the full version starts, you will carry over your team name and arena name. All the other things will be reset and you will be placed in a new league. We will post more details later.
Enjoy the game!
Author:

vlady
-
Translator:

vlady
Share on Facebook
Share on Twitter
Share on MySpace