Major changes in draft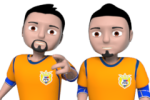 Dear friends,
I have some very good news for you. We have read your feedback and suggestions regarding the draft and we have decided to make major changes. Many of you have said that draft is a good thing, but it happens too often and it usually does not provide the kind of players that you would want, which diminished the gameplay experience. Your opinions are very important to us and that's why we have taken the best of your suggestions and we have put together a whole new format which will fix both problems at the same time.
Drafts will be reduced to 2 times per season (week 8 and week 16)
Week 8 draft order will be based on the level of academies and sporting directors
Week 16 draft order will be based on reverse league ranking
The number of players in each draft will be roughly 4-times the current number
The players for the draft will be generated 28 days before the draft which will give you 28 days to scout as many as you can
During those 28 days of scouting there will be no pulls from the sports academy
The number of rounds in each draft will be double the current number
In hockey and soccer, the draft will be divided into 2 consecutive days over the weekend (first half on Saturday, second half on Sunday)
The maximum number of hidden gems in each draft will be 4
The potential calculation will be changed so that players with one bad quality in a relevant attribute will have a lowered rating
The minimum quality that a player needs to have for B or C potential will be increased
Hidden gems will be revealed as soon as they are picked and they will be marked when they arrive in your sports academy
All these changes should resolve the 2 main issues that you had with the draft. The large number of players should guarantee much more high quality players and a much better chance of picking a blue chip prospect even later in the first round and maybe even in the second round. Moreover, the B-players will more likely be useful players because their minimum quality is going to be higher.
The new model will be introduced as of next season in soccer and hockey and in the second half of this handball season. Once again we will be glad to hear your feedback on the proposed changes. We believe the draft will become one of the most popular features of the game in the new format.
Have a nice day!
Author:

vlady
-
Translator:

vlady
Share on Facebook
Share on Twitter
Share on MySpace