Snowflakes are back!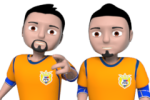 Dear friends,
once again we have prepared a special Christmas present for you. From today until December 28th, three new snowflakes will appear on the pages of the game every day. Your task is to collect all these snowflakes and if you do, you will get a surprise present!
If you cannot find a snowflake on the day when it appears, don't worry, it will stay there until the end of the event (January 2nd) or until you collect it. To collect a snowflake, just click on it. You can see the number of snowflakes you collected in a special message in your account.
We hope you have fun with this event over the course of the holidays. It is a small present from the guys here at PPM office to our managers. The snowflakes may be hidden on any page within PPM. Even if you only play one sport, you can collect them all without going to the pages of the other sports. Just keep your eyes peeled!
One more news, this time the snowflakes will be on different pages for every manager, so it will be a little bit more difficult than last year.
That's all, have fun!
Author:

dario
-
Translator:

dario
Share on Facebook
Share on Twitter
Share on MySpace