Best Wishes for 2021!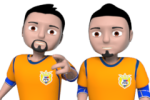 Hi folks,
2020 is almost over and I think we all would like the next year to be better than this one. We would like to wish you all the best for 2021, especially good health and hopefully life can return to normal at some point in the near future.
New basketball season
A new basketball season is also approaching and it will start on Monday. As usual, we will have league regrouping in selected countries to remove inactive teams from the bottom two league levels. League regrouping will take place in the following countries:
Argentina, China, Hungary, Lithuania, Other World
If you sign a sponsorship contract with bonuses and you happen to be moved to a different league during league regrouping, please don't be alarmed. You will have the option to renegotiate your contract during the first 2 days of the new season so that you can make the right choice. Check your new opponents before you make a decision.
See you next year!
Author:

vlady
-
Translator:

vlady
Share on Facebook
Share on Twitter
Share on MySpace