Join the TopArt November competition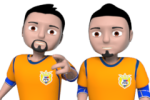 Hi friends,
as you know, this is the first month of the TopArt competition for the best logo, puck and soccer and handball pennant. We are glad to see that you enjoy voting in this competition. We would also like to invite you to join in the competition next month. All you need to do, is to create a new logo, puck or pennant until the end of this month. To increase your chances of winning, you may want to ask one of our recommended graphic artists for help. They are all very skilled and they can help you with other graphic elements as well.
New handball court paintings
We have added 41 new handball court paintings that you can apply to your court. There are 40 different paintings with national themes in national colors that you can find here. They only cost 5 credits each and they look really cool. You can also use our PPM theme court painting which you can find here. The PPM theme costs only 4 credits.
News from soccer
There are a couple of changes heading into next season in soccer. We have changed the way team strength and player ratings are calculated. Until now, the ratings and team strength was always taken from the start of the match or when the player entered the match. Now these numbers will reflect any changes you made to the lineup in the course of the match. For example, if you move a player from one position to another, his rating will be the average between the two positions and the time he spent in each position will also be taken into account. If he played 30 minutes with a rating of 10 and 60 minutes with a rating of 19, his final rating will be 16. Team strength will work the same way.
We have also moved the first staff pull of the season from Monday to Tuesday, so don't be surprised if you get no applicants on Monday. This was done because the new staff members aged in the seasonal update. The change only applies to the first week of the season.
That's all, have a nice day!
Author:

vlady
-
Translator:

vlady
Share on Facebook
Share on Twitter
Share on MySpace