Training programs and other news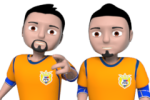 Hi friends,
you may have noticed that we added a new PRO feature to your Practice page. You might be wondering what it does. Well, it's a very useful feature to set up the automatic practice ratios for your players. You can create up to 20 training programs with your preferred practice ratios. Then you just apply these programs to players on the Practice page or in the player profile. It's very simple once you get used to it.
Last week we announced several new features. One of them is the influence of game importance on chemistry, experience and attendance. As you all know, the higher the game importance, the more energy your players spend. Due to the fact that many of you tend to use low or very low importance even in important league games, we have decided to make the game a little more challenging in this regard.
As of next season in each sport, importance will impact the chemistry and experience that your players gain from a game. The higher the importance, the more chemistry and experience they gain. This will apply to all types of games (except for credit tournament games in handball).
The influence on attendance will only apply to league games. If you play a league game (or part of it) on very low or low game importance and you don't win, the fans will remember that your team's effort was weak and they might not be willing to attend your next home league game. The attendance drop will be bigger if you play on very low and smaller if you play on low importance. Also the portion of the game that you play on low or very low will be taken into account. If you win, the importance that you used will have no effect on the attendance of the following game. Also, if your team is much weaker than the opponent, your fans will forgive you even if you play on very low and lose.
League regrouping in hockey
As usual, we will do league regrouping in hockey to eliminate inactive teams and increase competitiveness in the bottom two league levels. This season there will be regrouping in the following countries:
Austria, Belarus, Belgium, Bosnia and Herzegovina, Brazil, Bulgaria, Croatia, Czech Republic, Denmark, Finland, Latvia, Lithuania, Other World, Portugal, Slovakia, Slovenia, Switzerland, Turkey, United Kingdom
If you happen to be moved to a different league in the league regrouping and you accepted a sponsor contract with bonuses for wins or league position, you don't have to worry. You will be able to renegotiate that contract during the first 2 days of the new season.
Handball national team stats
In handball we have added national team statistics to the detailed stats tab of a player profile and also the statistics of players of on the national team pages.
Have a nice day!
Author:

vlady
-
Translator:

vlady
Share on Facebook
Share on Twitter
Share on MySpace