Become a military commander in the new game Army Duel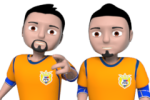 Hi friends,
The world has turned into anarchy and it's every man for himself. Numerous military fractions are battling for their own profit. It is up to you to restore order in your home city and then beyond its borders. Join now and build your own army in Army Duel!
There are plenty of dangerous missions awaiting you and your army. You will have to make difficult strategic decisions as a commander of your army.
Recruiting units for your army, building up your base to defend against enemy attacks, researching new technologies to increase the strength of your units, building infrastructure in the territories you conquer to generate money for your cause. All of this awaits you in the game.
There are plenty of new elements in the game. Building, recruiting and researching takes some time, so you have to be smart about what you do and when you do it. All of this is accompanied by a gripping story which is revealed to you bit by bit.
If you register until August 7, 23:59 CET, you will get the option to produce a unique unit called Terrain vehicle type 1950. So don't wait any longer and start playing now!
Enjoy the game!
Author:

vlady
-
Translator:

vlady
Share on Facebook
Share on Twitter
Share on MySpace