Notepad and improved advertising system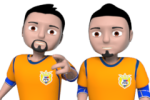 Hello friends,
today we bring you not one, but two great new features. Once again, we have implemented a few suggestions from the community.
The first new feature is really an improvement on the existing advertising system to promote game elements. After suggestions from the managers who have been using the system we have made a few important changes which will make advertising much more efficient. Until now you would buy 1000 impressions in one advertising package and that was it. But now, you will also get bonus impressions on the pages where you are most likely going to get hits.
If you buy a package to advertise a player, the player will be displayed on the player market page just above the list of players on the market. The chance that your player will catch the eye of a potential buyer will naturally increase. The ad will be exposed to managers who are looking to buy a player for their team. If there is no one else who bought an ad for a player in the same hour, your player will display on this position exclusively! The number of extra impressions that you can get from this bonus is unlimited and it only depends on the number of times the market page is displayed.
The system works the same way for staff members, except these are displayed on the staff market where they are most likely going to be noticed by managers who are looking to buy a staff member.
You can also advertise a candidacy for a national team manager. Such ad will be displayed on the elections page above the rest of the candidates to all eligible voters who come to this page. This is especially efficient during the first and last week of the season when the page is visited most often.
If you advertise a tournament, it will be shown as a featured tournament on the page with available tournaments. This will attract managers who want to sign up for a tournament.
We have also made it possible for you to buy advertisement packages one week in advance. If you have a player or a staff member on the market and you want to promote them, just click the

button in the advertising system and you will be redirected to the packages around or just before the deadline.
But that's not all. We also have something new for our loyal PRO pack owners that will make the management of their teams easier and more comfortable. The feature is called Notepad and you can find it on most pages in each sport on the left hand side under the promotion panel and above the next game panel. You can add here as many notes as you like. Things that you don't want to forget, but you don't want to keep them in your head. You can make notes about tactics, player practice, player sales or anything else that comes to your mind. You can add, delete or edit notes at any time.
In handball we added a helpful piece of information on the Staff page. Under each occupation it shows the number of staff members that you need to achieve full efficiency of the facility. As you know, if you have a lot of players, you also need more coaches, physiotherapists and physicians to take care of them. If you have a lot of staff members, you need more lecturers. And if you have a big arena, you need more arena custodians. Now you can find out easily how many you need in your current situation.
That's all, have a nice day!
Author:

vlady
-
Translator:

vlady
Share on Facebook
Share on Twitter
Share on MySpace