Happy New Year!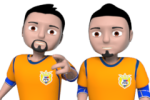 Hey everyone!
2017 has come and gone in a flash, don't you think? About time to have a sip of something good and come up with some fancy new year's resolutions that we can choose to ignore.
Anyway, we think this is the perfect opportunity to thank you all for playing our game. We are thrilled that you're here and hope you will stay with us in the next year as well! Let's drink to that!
Cheers and a Happy New Year!
Author:

vlady
-
Translator:

vlady
Share on Facebook
Share on Twitter
Share on MySpace