A few small improvements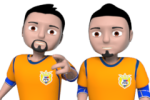 Dear friends,
In recent weeks we have implemented a few of your suggestions and also fixed a few bugs in the game.
On the page where you make updates to a sector of your arena or stadium, we have added the possibility to select a different sector. That means that you don't have to go back to the arena/stadium page to select a different sector.
You can notice another small improvement on your arena/stadium page and on the facilities page. If you move your mouse over an element under construction, you not only see the number of days until the end of construction, but also the date when the construction will be finished. That should help your planning a little bit.
The credit tournament founders will probably appreciate the new column in the list of registered teams with the current team strength.
In hockey, we have added information about the selected tactics on the Next game page. Here you can see what kind of tactics your team will use at the beginning of the game.
We have also made some modifications to the TopArt competition to make the voting a little more fair and to stop people from using automatic scripts to vote for one and the same graphic element.
Thank you for all your suggestions. We are keeping a record of all submitted suggestions and from time to time we pick the best ones and implement them. It's impossible to implement everything, but we are doing our best. We would also like to thank our captains who are helping us collect these suggestions from their communities.
Have a nice day!
Author:

vlady
-
Translator:

vlady
Share on Facebook
Share on Twitter
Share on MySpace