Invite friends to your league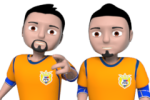 Hey guys,
yesterday we launched 2 brand new features.
You can now invite your friends to any league where there are free teams. Click the icon next to the name of a free team in league standings and you will get a special link which you can send to your friend. If your friend registers and creates a team via this link, he or she will be assigned to the team that you reserved for him or her. It also works on already registered users who don't have a team in that sport. The feature costs 30 credits, but if your friend reaches manager experience of 51, you will get a full refund of credits. You can also use the link yourself and this way move to a different league, but you will have to cancel your current team first. In such case you are not entitled to the refund of credits even if your reach experience of 51. We have reduced the waiting period to cancel the team on the request of user to 3 days to make this process faster.
If a new user registers via this special link, he or she will become your referral and you can actually earn some credits in case the user is active. If you give the link to a user who is already registered, this user will become your referral in case he is not a referral of anyone else. You can see all your current invitations as well as those who have used your league reservations in the PRO zone on the League friends page. All links are only valid for 7 days.
Of course, if the user is registered in a country which is different from the country where you reserved the place, he or she will not be able to create a team in that league.
The other new feature is Team comparison which you can find under League -> Statistics in all 3 sports. Here you can compare teams in your league in all sorts of categories and it will show you where you stand compared to your league mates. This is a PRO feature.
Have a nice day!
Author:

vlady
-
Translator:

vlady
Share on Facebook
Share on Twitter
Share on MySpace