Some more basketball and draft news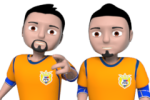 Dear friends,
the day of the launch of beta version of basketball is approaching. Soon we will set an official release date. But before we do that, I would like to give you some more information about what will be new in basketball compared to other sports.
The transfer fees in basketball will be higher. The standard fee will be 5% as it is in other sports. But this fee will go up sooner, more rapidly and to a higher limit. The fee will start going up after you sell 3 players (or staff members) in the span of 70 days. It will go up by 5% after every next sale. Maximum fee will be 75%.
The National Cup draw in basketball will be completely random. Even teams from the top league may be drawn to play each other in the first round. This change was requested by multiple users in our current sports so we decided to try it in basketball.
Due to shorter season, training camps will last from 3 to 5 days.
In the tactics you will have the option to pick one or two preferred shooters on your team and also to pick one or two opposing players to defend man-to-man while the rest of your team will play zone defense.
You will be able to put inscriptions and numbers on your basketball jerseys in our jersey creation tool. For every player on your team you will be able to create custom basketball shoes.
Draft news
We have decided to make a couple more changes to the draft based on your response to the last news about the draft. Even though it may seem strange that we keep making changes to the draft, we do them to show you that we care and we listen to your opinions. We have reconsidered the decision to have a 3 week break without any academy pulls before every draft. Even though this break had its significance, we have decided to get rid of it and give you these academy pulls. In order to make sure the number of new players stays the same, the number of draft rounds will be halved compared to the last proposal. That means maximum 5 rounds in hockey, 4 rounds in soccer and 3 rounds in handball. It also means that the draft will not have to be divided into 2 days.
All the other changes announced in the previous news remain valid. We will also implement some new features to make draft more user friendly. For instance the possibility to move a player to the top or bottom of the list with one click.
Have a nice day!
Author:

vlady
-
Translator:

vlady
Share on Facebook
Share on Twitter
Share on MySpace