New Season, New Challenges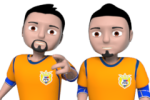 Hi friends,
there are only a few days to go until the start of season 13. The new season starts on Monday, but you should use these few days to get ready. The first sponsor offers come in tomorrow and you will have to make some tough decisions.
You can also check out the matches at the World Championships. We had some technical issues with the Under 21 category, for which we apologize. Everything should be fine now.
Finally, we would like to announce the list of countries where league regrouping will take place this season:
Belgium, Brazil, Croatia, Denmark, Estonia, Finland, France, Iran, Latvia, Norway, Other World, Portugal, Romania, Serbia, Slovakia, Slovenia, Switzerland, Turkey, Ukraine, United Kingdom, USA
League regrouping is a mechanism used to eliminate inactive teams from the two lowest league levels in the selected countries in order to increase the competitiveness of these leagues.
If you happen to be moved to a different league during league regrouping and you have chosen a sponsor offer with performance bonuses, there is no need to worry. You will get a chance to switch to a regular sponsor offer or change your target position for bonuses during the first 2 days of the new season.
That's all, good luck with your sponsor offers!
Author:

vlady
-
Translator:

vlady
Share on Facebook
Share on Twitter
Share on MySpace