Engine updates and more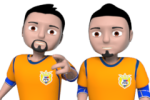 Dear friends,
I hope you are enjoying your handball experience so far. We have spent the last few days tuning up the engine and fixing some bugs which didn't appear in the beta version. We also had to do some database optimizations because our server couldn't quite cope with the massive load on the first day of full version. The optimization has gone well and the game runs smoother now.
In the game engine we have made the following changes to make the results and statistics more realistic:
increased the number of shots, fast breaks, yellow cards, 2 minute suspensions and goals
decreased the save percentage of goalkeepers and the number of red cards
We will continue to make small tune-ups in the engine during the first couple of weeks. We will keep you posted on these changes of course.
We are glad that we have already surpassed the 20,000 handball manager milestone and hopefully the number will keep growing. You can help it by inviting your Facebook friends.
On the first two days, there were some problems with the advertising system. We have refunded everyone who has used the advertising system during that time. Everything works fine now so you can promote players, staff members, teams or tournaments.
That's all, have a nice day!
Author:

vlady
-
Translator:

vlady
Share on Facebook
Share on Twitter
Share on MySpace