Basketball beta starts Monday!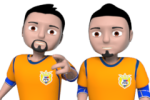 Dear friends,
the moment that we have all been waiting for is here. The launch of the basketball beta version has been set for next Monday, June 9, 2014! The exact time of the launch is not yet known.
I would just like to specify a few important facts about the beta version that you should keep in mind. For the first 5 days of beta, you will only be able to create a team for 30 credits. After that, beta will be available for free. You will be able to create a team from the Home page, from the Sports page or by clicking a link on the top bar when it becomes available.
The reason why beta is not free from the beginning, is to avoid server crash due to the huge load that could be created by a large number of users trying to create a team at the same time. Also opening the leagues in countries is not an easy task and it would be difficult to keep up with the demand if beta was free from the start.
PRO packs and PLUS pack featurs in basketball will be free for everyone during beta version.
The plan is to have beta version run for 14 days, after which the full version will start. As usual, any progress you make in the beta version will be reset for the full version. However, your team names and arena names will be carried over.
We will publish more details on Monday.
FIFA World Cup 2014 prediction pool
We have one more thing for you. In cooperation with our captains, we have prepared a prediction pool for the FIFA World Cup in Brazil. It is one of the biggest sporting events on our planet and therefore the prize pool is quite special as well. A total of 6000 credits have been collected for this event. We will also add a customized polo-shirt, customized T-shirt and customized cap into the mix. Join for free now!
Have a nice weekend!
Author:

vlady
-
Translator:

vlady
Share on Facebook
Share on Twitter
Share on MySpace