Option to recover former teams and other news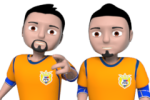 Dear friends,
in recent months we have received plenty of requests from former managers who begged us to give them back their old teams. For various reasons they couldn't log in for a long period of time and they lost their teams due to inactivity. Unfortunately we could not fulfill their requests due to the fact that it required a series of complicated database operations by the programmers.
However, the constant requests prompted us to create an option for these managers to recover their old teams with a click of a button. We had to make a few adjustments to make this work. Unfortunately, it will only work with teams that were revoked after this change was implemented. That means that it only applies to teams that will be revoked from this point forward. The fee for recovering a former team is 100 credits. A team cannot be recovered if it was revoked due to bankruptcy or insufficient number of players on the team.
Of course, if you have a national team player, he will go to the market as soon as you lose your team and you cannot recover such player. But your PRO pack, experience, graphic elements you uploaded, facilities and finances will all be restored. Player practice settings, lineups and tactics are all deleted when the team loses manager and these cannot be recovered.
If a team lost a manager in one of the 2 lowest league levels, the team turned to noname, it got new players and it's facilities were reset. That will no longer be the case. Every team that loses a manager will get a † sign so that the former owner can recover it. However, in the lowest two levels, these teams will be available for new managers so a team may be assigned to a new manager if the old one doesn't recover it in time.
League regrouping in soccer
The soccer season is coming to an end. The second PPM Football World Cup will start on Monday, don't miss it. We have selected a lot of countries for league regrouping this season. It will be easier to list the countries/continents which will NOT have league regrouping this season:
Bosnia and Herzegovina, Brazil, China, Czech Republic, France, Greece, Croatia, Hungary, Indonesia, India, Israel, Moldova, Norway, Poland, Romania, Saudi Arabia, Slovakia, Chinese Taipei, Uruguay, USA, Europe, North America, Scotland
All the other countries will have regrouping of the two lowest league levels to eliminate noname teams and increase competitiveness.
Final engine updates in handball
The handball engine tuneup was finished last week. We have increased the effectiveness of tactical settings in the match. There was a bug with the substitutes chosen for red carded players. That is now fixed along with several other minor bugs.
Two new features have been implemented on the line-up page:
the option to delete a formation from the line-up
the option to load line-up from a previous match (at the bottom of the page - more info in the guide)
That's all, have a nice day!
Author:

vlady
-
Translator:

vlady
Share on Facebook
Share on Twitter
Share on MySpace