Seventh season coming up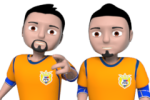 Hi friends,
another handball season is coming to an end and that means it's time for the World Championship. Who will be the new champion? Remember that you can watch all the action live for free!
As always, there will be league regrouping in selected countries to remove the inactive teams in the lowest two divisions. This season the league regrouping will take place in the following countries:
Argentina, Belgium, Bosnia and Herzegovina, Brazil, Canada, Chile, Denmark, Estonia, France, Greece, Netherlands, Norway, Poland, Portugal, Slovenia, Spain, Turkey, Venezuela, Other World
We would also like to announce a small change. As of next season, the result of a forfeited match will be 10-0 instead of 30-0. A forfeit result is applied when a team cannot play the match for some reason (not enough players for example). The suggestion for this change came from the community.
That's all for now, good luck with your sponsor offers!
Author:

vlady
-
Translator:

vlady
Share on Facebook
Share on Twitter
Share on MySpace