Vote for the best graphics!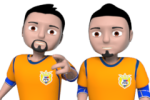 Hi friends,
The competition for the best team graphics is here! We call it TopArt and it will run every month from now on. It is only up to you and your votes to decide who gets the title of the best logo, hockey puck, soccer pennant and handball pennant. You can vote on the home page as well as many other pages on the left hand side of the screen. You can also go to the TopArt page, where you can not only vote, but you can check out the current rankings in all four categories and read the rules of the competition.
Good luck to all of you!
But we have more good news for you. You may have already noticed that we have added a new set of emoticons, or smileys as many like to call them. You can find them by clicking the SPECIAL TAGS link when posting on the forum or on your wall. You can also use them in chat, in private messages and in press releases.
We have also implemented an option to turn on/off notifications about posts on the wall. If you make a post on the wall, or reply to a post of your friend, you automatically get notifications when someone replies to this post. You can turn this off. You can also turn on notificactions for posts of your friends to which you have not replied. To do this, click the small sprocket wheel in the top right hand corner of the wall post.
paysafecard available in new countries
We would also like to inform you that paysafecard payments are now available in 4 new countries: Canada, Malta, Mexico, USA.
The paysafecard payments have several advantages. They are anonymous and they don't require any registrations. You just buy a card in one of the sales outlets nearby and then type the pin code into the form on the paysafecard page. You can find your local sales outlets here. After buying the card, go to the PRO zone and select one of the paysafecard payment options (1, 10, 25 or 50 Euros).
Have a nice day!
Author:

vlady
-
Translator:

vlady
Share on Facebook
Share on Twitter
Share on MySpace