Play games instantly without waiting!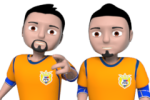 Hi friends,
We have prepared a special surprise for you this Christmas. From tomorrow (December 15) you will be able to challenge any opponent and play immediately without waiting. This way you can measure yourselves against any team and test various tactical options.
At the same time you will be competing for the Team of the Day award every day. Every morning at 8.00 CET we will draw groups of up to 100 teams which will then battle for this award. Great thing about this is, that a team with strength 50 has the same chance of winning as a team with strength 300. That's because the number of points you earn is calculated from ratio of the strength of your opponent to the strength of your team. So it's up to you how much you want to risk and what kind of opponents you will challenge.
If you rank in the top three of the daily leaderboard, you will get into the weekly leaderboard for a chance to win the Team of the Week award and a reward in credits to boot! We will hand out rewards to three best managers in each sport every week!
You can play up to 15 instant games in each sport every day. Everyone has 5 games a day for free. If you have a PRO pack, you can play up to 10 games a day for free. Every game beyond that costs 3 credits. If you are enjoying instant challenges and you want to play them a lot, you can buy convenient packages with discounts up to 60%.

You can read all the vital information in the guide in the Instant challenges section.
But that's still not all! From tomorrow until January 6, 2015, you will be getting Christmas gingerbread for instant challenges. Every time you challenge someone, you will have a 50% chance of getting a piece of gingerbread. You can then exchange gingerbread for rewards such as packages of instant challenges or credits and a 30% bonus on purchase of credits. You can pick from a total of nine packages.
Have fun!
Author:

vlady
-
Translator:

vlady
Share on Facebook
Share on Twitter
Share on MySpace