Handball Economy Update?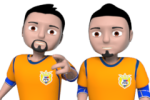 Dear friends,
as you know, we are approaching season 12 in handball. The game has been running for a while now and maybe it is time to review the balance of economy.
We have been getting feedback from a few of you that it is becoming increasingly difficult to manage keep your teams out of the red numbers. Perhaps too difficult and maybe some changes would help the game. We would like to hear your opinion.
We want to give you a unique opportunity to help shape the future direction of this game. Just answer a few simple questions in this poll:
Your answers will be much appreciated and they will help us make the right decision. Of course, we are aware that the popular vote might not be exactly the same as what's best for the game, but it will give us a good guide.
As usual, we will have league regrouping in selected countries to remove inactive teams from the bottom two league levels. League regrouping will take place in the following countries:
Argentina, Belarus, Belgium, Bosnia and Herzegovina, Brazil, Canada, Estonia, France, Germany, Iran, Italy, Latvia, Netherlands, Norway, Other World, Portugal, Romania, Russia, Slovakia, Spain, Switzerland, Turkey, United Kingdom, USA, Venezuela
If you sign a sponsorship contract with bonuses and you happen to be moved to a different league during league regrouping, please don't panic. You will have the option to renegotiate your contract during the first 2 days of the new season so that you can make the right choice. Check your new opponents before you make a decision.
Good luck to everyone!
Author:

vlady
-
Translator:

vlady
Share on Facebook
Share on Twitter
Share on MySpace