Estimated launch of full version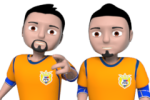 Hi friends,
How do you like handball so far? We are constantly working on fixing all the bugs that you have reported. There are just a few more things we need to do before we can launch the full version. I can already tell you that the full version starting date has been tentatively set for Monday, May 27. Only some unexpected complications could change these plans and postpone the launch.
The game engine is almost done now. All tactical options are implemeted now. You can change tactics at half-time, you can call time-outs and change goalkeepers. We just need to do a little bit of tuning, but overall we are in a good place. The three stars of the match and all-star teams have been implemented today. All the other features are working fine with the exception of some minor bugs. We are yet to implement the option to customize stands.
Some of you may have noticed that your teams or arenas have been renamed. This is because we have created a set of characters that can be used in team and arena names. All team and arena names which contained characters not on this list, have been renamed. You can rename your teams and arenas in team settings for free during beta and during the first 2 weeks of the full version.
As we had announced earlier, our most loyal supporters will have a 50% discount on handball PRO pack for the first 2 weeks of full version. Everyone who has subscribed for more than 700 days of PRO pack in hockey and soccer combined will be entitled to use this discount. Of course, there will also be discounts if you buy combined PRO packs in 2 or 3 sports. These discounts cannot be combined however.
Don't forget that the auction for league places in the lower leagues is still going on. You can still reserve your place in one of these leagues and perhaps get your friends to reserve their place in the same league. Take part in the auction here.
Have a nice weekend!
Author:

vlady
-
Translator:

vlady
Share on Facebook
Share on Twitter
Share on MySpace