Youth national teams are coming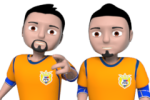 Hi friends,
as season 8 draws to a close, the launch of the U21 and U19 national teams is approaching. You can still post your candidacy for the position of general manager of these national teams until Sunday. If you are not interested in running a national team, you can at least vote for your preferred candidate. You can give preferrential votes on the Elections page.
Also don't forget to support your country at the World Championship. All matches can be viewed live for free!
The end of the season also means league regrouping in the bottom two league levels in selected countries. League regrouping is a mechanism that removes the inactive teams from the lowest leagues in order to increase competition. This season league regrouping will take place in these countries:
Argentina, Belgium, Bosnia and Herzegovina, Brazil, Chile, China, Czech Republic, Denmark, France, Greece, Iran, Italy, Lithuania, Netherlands, Portugal, Romania, Serbia, Spain, Switzerland, Turkey, Ukraine, USA, Venezuela, Other World
That's all, good luck with your sponsor offers!
Author:

vlady
-
Translator:

vlady
Share on Facebook
Share on Twitter
Share on MySpace