Forum improvements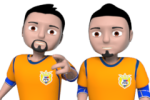 Hi friends,
today we have implemented some new features on the forums, which I am sure you will appreciate.
The first change is that you can edit your own posts within 2 minutes from posting. If you made a mistake or want to add something to your post, you can edit it, provided you do it within 2 minutes of the original posting time.
On the Home page and the Forum page you have the Newest posts section. That's not new, of course, but now you can pick and choose which countries and sports you want to follow this way. For instance, if you are interested in reading all the new posts in International discussion, just add International to your list of followed countries. Or if you don't play one of the sports and you are not interested in seeing all the new posts in that forum, you can turn it off and you will not get updates from that sport's forum. You can change all these settings on the Forum pages. Please note that you cannot cancel following of the forums in your own country and the general forum category.
In case a moderator deletes a post, the name of this moderator will be visible to all users. If a moderator deletes your post and you don't know the reason, you may contact the moderator who deleted your post and ask about it. Please do not use the forums to discuss and speculate about the decision of the moderator. It is against the rules and you only risk further punishment.
We would also like to inform you that the rules have been updated. There is one new rule and one other rule was modified. Here are both of them:
It is forbidden:
to give your password to another manager and thus enable him/her to log into your account
to cheat in any way with the purpose of gaining referrals, including encouraging people with no intention of playing the game to create an account with the purpose of gaining a referral
You can read all the rules here.
We have been receiving questions about the Champions League and Cup Winners' Cup in handball. As is written in the guide, both competitions will have 80 teams. For the next season, the top 39 countries according to number of handball teams will get 2 spots in each competition. The other 2 countries will get 1 spot in each competition.
That's all, have a nice day!
Author:

vlady
-
Translator:

vlady
Share on Facebook
Share on Twitter
Share on MySpace