Improvement of the line-up page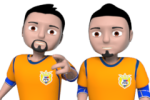 Hi friends,
last week we implemented a filter for positions on the lineup page in basketball. Initially, the filter only took into account players' height, but now it has been improved to also take into account the player type that you have set for each player. That means that if you set someone's type as point guard, he will appear among point guards even if his height is not recommended for point guard. The option to set player type is a PRO feature.
We have decided to bring this filter to handball as well. Since there is no height in handball, the filter uses players' attributes to determine their position. Like in basketball, the player type is also taken into consideration.
We believe this new feature makes lineup setting a lot easier for the experienced and new managers alike. We will continue to implement more of your suggestions in the coming weeks and months.
Have a nice day!
Author:

vlady
-
Translator:

vlady
Share on Facebook
Share on Twitter
Share on MySpace