Option to view sponsor offers in advance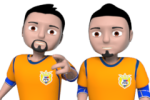 Dear friends,
another handball season is coming to an end. As you may have heard, the general sponsorship offers will be a little more interesting this season. Instead of 1 offer, you will receive 3 offers every day with various parameters. One regular offer with fixed weekly payments, one offer that will give you extra bonuses for every win in a league, and one offer with bonuses for achieving a target position at certain checkpoints during the season. You can read everything about these sponsor offers in the guide.
But that's not the only new thing. We will also give you the option to view sponsor offers in advance. For example, if you don't like any of the offers that you have received, you will have the option to view the offers from the next day. This feature will cost 10 credits. It can be very helpful if you know that you cannot be online on some day. You can use this feature multiple times in a row until you reach the final offer which will be accepted automatically. Every time you use it, the offers that you currently have on the table will be rejected.
The same feature will be available for media sponsors and VIP lounges (or skyboxes in hockey). The price is 10 credits for media sponsors and 3 credits for each VIP lounge (skybox).
We would also like to announce, that we will modify the calculation of team strength in handball as of next season. You might notice a slight increase.
As usual, we will have league regrouping in several countries in handball to eliminate inactive teams and increase competitiveness in the bottom two tiers. This season there will be regrouping in the following countries:
Bosnia and Herzegovina, Chile, Croatia, Czech Republic, Denmark, Estonia, Finland, France, Germany, Greece, Iran, Italy, Lithuania, Norway, Other World, Poland, Romania, Russia, Serbia, Slovakia, Slovenia, Turkey, United Kingdom
Planned changes for all sports
There are also a couple changes to the economy which we plan for the near future. First of all, we plan to remove the bonus that the sponsors give in their offers for performance of the club in international cups (champions' league and cup winners' cup). There will still be a bonus for qualifying for any of these competitions, but not a bonus for performance in those competitions. This change will be implemented as of next season in each sport in order to make it a little easier for the lower ranked teams to catch up with the top teams.
We will also introduce a cap on the number of staff members you can have in one facility. This change will not influence most of you. The cap will be 8 staff members per facility. Some managers have a lot more than that for the purposes of making profit from staff transfers. This change will probably be implemented from the next season in hockey and soccer and from season 5 in handball.
That's all, have a nice day!
Author:

vlady
-
Translator:

vlady
Share on Facebook
Share on Twitter
Share on MySpace