Handball starts now!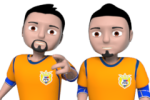 Dear friends,
we are proud to announce that the full version of handball has just been launched! The third sport on PowerPlay Manager is finally here. If you don't have a team yet, you can create it here. If you had a team in beta, you don't have to create a team. Your team name and arena name have been transferred to the full version. All the other things have been reset of course. You can change your team name and arena name for free during the first two weeks.
Handball comes with improved economics and a more dynamic gameplay. You can play up to 2 matches a day and there are 4 league days per week. We have also added a new element to staff and roster management. The more players you have, the more coaches, physiotherapist and physicians you need. The more staff members you have, the more lecturers you need. And finally, the bigger your arena, the more custodians you need. A new tactical option called time-out that you can call to stop the growing momentum of your opponent. All of this is waiting for you in handball.
For the first 11 days, everyone will be allowed to place a maximum of 1 player and 1 staff member on the market at the same time. You will be allowed to bid on the market for the first 11 days even if you don't have manager experience of 11. As of day 12, normal service is resumed.
Everyone will get a free PRO pack for the first 7 days. The period of inactivity for non-PRO managers will also be 7 days during the first month of full version. This precaution is to make sure that there are only active managers in the leagues at the beginning. If you activate PRO pack, your allowed period of inactivity will be 50 days as usual. After 1 month, normal service will be resumed.
During the first half of the season (until day 56), all teams that lose a manager, become noname teams regardless of the league level they played in. Even if a first league team loses a manager, it becomes available for a new manager. Again, this is to ensure that the game stays competitive at the beginning.
For the first 2 weeks of the full version of handball, there is a 50% discount on handball PRO pack for all those who have subscribed for over 700 days of PRO in hockey and soccer combined. If you are eligible for this discount, we will send you an in-game message informing you about this. Also if you are close to being eligble. The discount does not apply to 7 day PRO packs.
Moreover, there are special discounts on combined PRO packs if you buy a combined PRO pack for all three sports. The discounts on combined PRO packs for any combination of 2 sports have been increased by 5%. Plus there is a brand new 1-month PRO pack option that you can activate now.
I believe that is everything you should know for the start. Enjoy the game and good luck!
Author:

vlady
-
Translator:

vlady
Share on Facebook
Share on Twitter
Share on MySpace