This Christmas will be full of surprises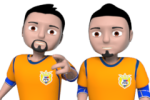 Hi friends,
Christmas is coming and we would like you to not only eat a lot of cookies, but also to have some fun. That's why we are preparing a whole new feature for you which should be launched very soon. This new feature will bring a whole new level of fun into the game. Would you like to know more? Just follow our Facebook page and you can even win some credits.
New season in handball
We are approaching season number 6 in handball. I hope you are all ready to have a good start to the next season. If you haven't had your training camps yet this season, now is a good time to have them. Also don't forget that the battle for the world title is raging right now at the world championship. Be sure to follow and support your country.
As usual, we will be doing league regrouping in the 2 lowest league levels in selected countries to remove inactive teams and make the game more fun and competitive. This season the league regrouping will take place in all countries except the following:
Chile, Estonia, France, USA
Fixes in basketball
We fixed the calculation of team strength for national teams in basketball. This bug affected all teams in the same way, but now everything is as it should be. We have also fixed a bug which caused all stats from the second overtime period to be added to the first overtime period.
That's all, don't forget to Like our Facebook page.
Author:

vlady
-
Translator:

vlady
Share on Facebook
Share on Twitter
Share on MySpace