Season 17 in Handball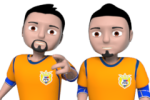 Hi folks,
it's time to get everything ready for another season which starts next Monday. Many of you use this quiet period to organize training camps and of course to choose your sponsors for the next season. Some of you, however, are still busy managing the national teams at the World Championships. In any case, don't forget to log in tomorrow for the first sponsor offers.
As ever, there will be league regrouping in selected countries to remove inactive teams from the bottom two league levels. League regrouping will take place in the following countries:
Argentina, Belarus, Bosnia and Herzegovina, Bulgaria, Chile, China, Croatia, Czech Republic, Denmark, Germany, Greece, Iran, Latvia, Other World, Poland, Portugal, Slovenia, Turkey, United Kingdom, United States, Venezuela
Remember, if you happen to be moved to a different league during league regrouping and you have chosen a sponsor offer with performance bonuses, there is no need to worry. You will get a chance to switch to a regular sponsor offer or change your target position for bonuses during the first 2 days of the new season.
Good luck in the new season!
Author:

vlady
-
Translator:

vlady
Share on Facebook
Share on Twitter
Share on MySpace