New Basketball Season And Poll Results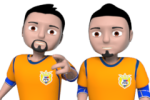 Hi friends,
we are in the final days of season 12 in basketball as you probably know and a new season starts next Monday. Don't forget that even though the club season is over, there is still the World Cup that's going on and you can watch all games live for free. These final few days of the season will also be important for the future of your club as you choose sponsors for the next season.
As ever, there will be league regrouping in selected countries to remove inactive teams from the bottom two league levels. League regrouping will take place in the following countries:
Argentina, Austria, Belarus, Belgium, Bosnia and Herzegovina, Brazil, Canada, Czech Republic, Estonia, Greece, Hungary, Iran, Italy, Netherlands, Norway, Other World, Poland, Portugal, Switzerland, Turkey, United Kingdom, Venezuela
If you sign a sponsorship contract with bonuses and you happen to be moved to a different league during league regrouping, please don't panic. You will have the option to renegotiate your contract during the first 2 days of the new season so that you can make the right choice. Check your new opponents before you make a decision.
Handball poll update
Last week we asked you to vote in a poll about what we should do about the economy in handball. We would like to thank you all for your votes. We have received over 1700 responses which is quite a good sample size and the results have confirmed what we thought.
72% of you think that the economy should be tweaked
78% think that the player salaries should be reduced
53% think that they should be reduced by the same percentage for every player
77% think that the changes should be introduced as soon as possible
Also thank you for all the comments below the news article from last week. I have personally read most of them and many of you have raised some good points both for and against the changes. However, the changes are indeed necessary in order to keep handball going and retain a solid base of managers. We would like to assure you that handball will remain a challenge for you even after the changes. You don't have to worry that the updates will make the game too easy.
Now we will take some time to figure out exactly how much we should cut off from player salaries. That will be the only change that we will do and it will be introduced at some point this season, probably within a few weeks. We will give you advance warning. The change will only affect new contracts.
That's all, have a nice day!
Author:

vlady
-
Translator:

vlady
Share on Facebook
Share on Twitter
Share on MySpace