Youth national team elections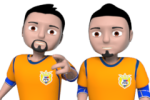 Dear friends,
as we have promised a couple of weeks ago, the elections of the first youth national team managers have now begun. You can sign up for the first round of the elections or if you are not interested in running a national team, you can vote for your preferred candidate. You can find the elections here. Just select your preferred country and age category.
As usual, you can post your candidacy in any country and any age category, but only managers from the country of that national team can vote. Please remember that it is not allowed to send spam messages to other managers asking for votes and such conduct will result in diaqualification from the elections.
The youth national team competitions will have the same model as the senior ones. The qualification will be divided into 8 groups with top 3 teams from each group advancing to the World Championship. The first matches will be played next season after the second round of the elections.
Good luck!
Author:

vlady
-
Translator:

vlady
Share on Facebook
Share on Twitter
Share on MySpace