Are You In Holiday Mood Yet?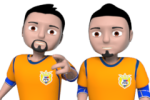 Hi folks,
it's that time of year again. Everywhere you look there is something to remind you that Christmas is coming to town. And it won't be any different here on PPM. If you aren't in a festive mood yet, we will make sure to change that this Wednesday.
Stay tuned and don't miss it!
Author:

vlady
-
Translator:

vlady
Share on Facebook
Share on Twitter
Share on MySpace