Black Friday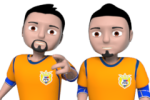 Hi folks,
Black Friday is here and we have quite a unique offer for you!
The awesome Black Friday bundle contains special edition graphic elements that you can't get anywhere else - a hockey goalie mask, a pair of soccer goalkeeper gloves, a special jersey for your handball goalkeeper and a pair of nice basketball shoes.
Do you like instant challenges? We've got you covered. 50 challenges for each one of your teams. If you play all 4 sports, that's 200 instant challenges.
And last but not least, a big bundle of 400 credits on top of all that. You can get all of this stuff with an incredible 62% discount! So what are you still waiting for? The offer expires next Friday, December 1.
Because this is a one-time offer, it is not possible to purchase with a wire transfer. You can find the offer in the top part of the page. If you can't see it, try logging out and in again.
Enjoy!
Author:

vlady
-
Translator:

vlady
Share on Facebook
Share on Twitter
Share on MySpace