Let the Easter party begin!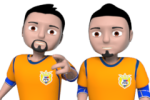 Hi all,
we have prepared something special for you this Easter. Are you ready to win some awesome rewards? Just play instant challenges, collect Easter eggs and exchange them for the rewards of your choice. You can get free instant challenges, credits and even a coupon code for a 30% bonus on purchase of credits! After each instant challenge you have a 50% chance of finding an Easter egg whether you win or lose. You can find the instant challenges by clicking the Play now button at the top of the screen.
Now that's a good deal don't you think? You better get started right away so that you can collect as many eggs as you can. The event ends on April 13.
Good luck!
Author:

vlady
-
Translator:

vlady
Share on Facebook
Share on Twitter
Share on MySpace