News about the junior teams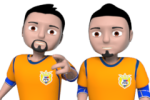 Dear friends,
many of you have been asking us when are we going to launch the junior national teams in handball and basketball. We have some good news for you.
From today you can post your candidacies to become managers of the U19 and U17 national teams in basketball. You can also start giving your preferential votes to the candidates that you wish to vote for. The junior teams will become available from the next season after the second round of the elections. The juniors will follow the same model of competition as the senior teams. Please remember that it is forbidden to send spam messages asking for votes in the elections and you will be disqualified if you do so.
As far as handball is concerned, we plan on making the elections available next season and the junior national teams from season 9. Why not launch the junior teams next season? Because in handball, the junior age categories are U21 and U19 and if you look at the national teams now, almost all players are 21 or younger. In two seasons, most of the best players will be over 21 and it will be a good time to launch the junior teams. We have to wait just a little longer because of this. But season 8 is just around the corner.
Because we are approaching the start of new season in handball, we would also like to announce the list of countries where league regrouping will take place this season:
Argentina, Austria, Bulgaria, Chile, China, Croatia, Czech Republic, Denmark, Finland, Germany, Greece, Hungary, Iran, Latvia, Lithuania, Netherlands, Norway, Poland, Romania, Russia, Serbia, Slovakia, Slovenia, Sweden, Turkey, UK, Ukraine, USA
League regrouping takes place in the bottom two league levels of the selected countries in order to remove the inactive teams and increase competitiveness in these leagues.
That's all for now, good luck with your sponsor offers!
Author:

vlady
-
Translator:

vlady
Share on Facebook
Share on Twitter
Share on MySpace