Season 3 coming up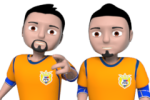 Hi friends,
I hope you have enjoyed your holidays. In handball they coincided with the final days of the season. Season 3 starts on Monday and the new feature in the upcoming season are the national teams.
You can still sign up for the elections and try to get elected as a manager of one of the national teams. The final round of voting will take place next week and then the elected managers will be able to select players for the national teams and schedule friendly matches. At the end of the season, the national teams that make it through the qualification will compete for medals at the world championship.
We would also like to inform you that there will be league regrouping in the following countries:
Argentina, Belarus, Belgium, Bulgaria, Brazil, Chile, China, Estonia, Germany, Hungary, Iran, Latvia, Lithuania, Netherlands, Portugal, Spain, Turkey, United Kingdom, USA, Venezuela
The league regrouping is done to eliminate the teams without managers from the last 2 league levels and increase competitiveness in these leagues. If you are in one of these leagues, you might be moved to a different league or even promoted.
That's all, have a nice day!
Author:

vlady
-
Translator:

vlady
Share on Facebook
Share on Twitter
Share on MySpace