Compare teams in your league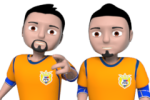 Dear friends,
In our constant effort to improve your gaming experience we have recently implemented a new PRO feature called Team comparison. We appreciate your support and we are always happy to add new features to the PRO pack for your convenience. I have already mentioned the launch of this new feature in the previous news, but due to another big new feature, there was not enough room to talk about this one in more detail.
So what exactly can you find on Team comparison page? You can find it under League -> Statistics in every sport and there is plenty of useful information to see here. On the General tab you can compare the teams' strength in every category as well as their OTR and number of fan club members. The Facilities tab shows the teams' facility levels as well as the accumulated level of all facilities. In case a team is in the process of upgrading a facitily level, it counts as 0.5 in this table. The Arena/Stadium tab tells you everything you need to know about the arenas or stadiums in your league. Names, capacities, accessories, everything is listed here. The Players tab shows the total number of players on each team, the average OR, average quality, average age and average career longevity of players.
In all of these tabs there is also the league average line which tells you whether your team is above or below league average in a selected category. Of course, you can sort the tables by clicking the column headers. You can also view the same statistics from other leagues that interest you.
We hope you will find this new tool helpful. Now lets move on to other topics.
In hockey, the season is coming to an end. We have decided to do the league regrouping of bottom two league levels in all countries except for the following few:
France, Hungary, Italy, Netherlands, United States of America
All the other countries will have league regrouping in order to increase competitiveness, game experience and get rid of the inactive teams.
In handball we have fixed a bug yesterday regarding team strength calculation. The influence of seasonal energy has been incorparted into the team strength calculation. Unfortunately, this bug was only noticed a couple of days ago by one of the users. As soon as it was pointed out we fixed the problem without delay. The important thing now is that everything works as it should. We are still in the first season and a bug like this was almost impossible to detect early in the season.
That's all, have a nice day!
Author:

vlady
-
Translator:

vlady
Share on Facebook
Share on Twitter
Share on MySpace