Winners of the Great Referral Campaign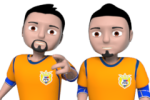 Dear friends,
we would like to announce the winners of Great Referral Campaign which took place throughout August. There were 2 different competitions and in total there were 23 prizes won in the total worth of €1600. The prizes are sponsored by PowerPlay Manager in cooperation with www.onlinegamesector.com.
...and the winners of the main competition are:
1st prize: XBOX 360 + KINECT - Pablo1878 with 713 verified referrals
2nd prize: Nokia Lumia 710 - Ramon Diaz with 622 verified referrals
3rd prize: PlayStation Portable - jonak with 326 verified referrals
In the lottery competition we randomly selected 5 winners in 4 categories according to the number of verified referrals.
PlayStation Portable goes to these five managers who obtained 41 or more verified referrals in August: Yzerman, vladikp, Bodziowlodek, svetinja, partwish031
A game for XBOX 360 goes to these five managers who obtained between 21 and 40 verified referrals in August: 3Fast3Furious, josseffo, Jera82, ccristi, Voleibol 09
350 credits go to these five managers who obtained between 11 and 20 verified referrals in August: Ericsson8, biatlon2000, Biszkopt, pokerarclaci, apzfpk
200 credits go to these five managers who obtained between 1 and 10 verified referrals in August: kahroba, zagreb7070, Fubar151998, kimpin, eFJaySVK
Congratulations to the winners! We would also like to thank everyone who took part in this competition and who helped us spread the word about PowerPlay Manager. We hope you will continue supporting us this way. Remember that there are always credits to be earned for gaining new referrals.
We also have some news from handball. We have made a few modifications in the match engine for the new season. Most importantly, the energy of players will be taken into account in credit tournaments. So if your players are tired, it will be reflected in the credit tournaments as well. Of course, that doesn't mean that matches in credits tournaments will have any influence on the energy of your players so you can keep playing tournaments without worrying about energy.
We have also made several tune-ups to reduce the possibilities for unusually extreme results and long series of unanswered goals. One of the changes means that the goalkeeper confidence is reset if any team takes a time-out. The time-out also resets the counter of consecutive goals allowed by the goalkeeper without making a save.
Have a nice day!
Author:

vlady
-
Translator:

vlady
Share on Facebook
Share on Twitter
Share on MySpace