National team manager elections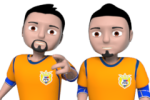 Dear managers,
we have several good news for you. As you might have already heard, starting next season we will launch the national teams in handball. We will have the first PPM handball national team's qualifications for world championship and the final tournament will be played at the end of the same season. So naturally we need to hold elections for national team managers. You can apply for this position starting today. Don't forget that you can promote your candidacy or your favorite candidate in the advertising system. You can do that by clicking on the Advertise candidate button under the candidate's presentation.
Engine update
We would also like to let you know that we made a small adjustment in the handball match engine. From now on chances of one team scoring a large number of unanswered goals in a match between opponents of similar strength will be a lot lower than it was until now. As you might remember, we have made a similar change before the start of the season, but after feedback from some of you, we have decided that it was not enough and therefore we made a few more adjustments to reduce this possibility even more. This change does not affect the tactical side of the game and that's why we decided not to wait until the end of the season.
And we made one more fix in the engine. We fixed the bug in match report regarding the number of shots wide. Until now the shots wide from 7 meter throws were not counted to the total amount of shots wide, but that's now history.
That would be all for now.
Have a nice day!
Author:

dario
-
Translator:

dario
Share on Facebook
Share on Twitter
Share on MySpace