Live auction!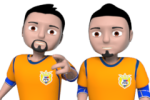 Hi all,
the fight for places in the top leagues in basketball is reaching its climax in the live auction. Join in or bid for lower leagues if your prefer to start there. Just pick one league that suits you and send a bid.
Playing with people you know is a lot more fun, isn't it? Now you can invite your friends to the same league where you want to play! You can invite up to 15 friends from your country. The invited friends get a 50% discount on the starting price for any position in that league which has no bids yet.
You need more credits to take part in the auction? Now is a good time to buy credits via PayPal because you can get up to 25% bonus on your purchase when using this payment method. Go to PRO Zone and check it out! The offer expires on June 30.
Author:

darshee
-
Translator:

vlady
Share on Facebook
Share on Twitter
Share on MySpace