Last chance to exchange gingerbread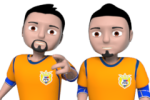 Hi friends,
the Christmas is history and very soon the same might be said of our Christmas challenge as well. Today is your last chance to exchange the gingerbread that you collected over the last few weeks for some nice rewards. The deadline is at 4pm so don't miss it!
But that's not the only thing that is ending. Season 8 in basketball is now in its final week and it's time to prepare for the next season. As ever, it is the time to sign new sponsors for your teams and also a time for national teams to fight for the world title. Follow your national team in all three age categories. All games are available live for free.
We would also like to announce the list of countries where league regrouping will take place at the end of this basketball season:
Bosnia and Herzegovina, Brazil, Chile, Czech Republic, Finland, Iran, Lithuania, Netherlands, Slovakia, Spain, Sweden, Turkey, UK, USA, Venezuela
League regrouping is a mechanism used to eliminate inactive teams from the two lowest league levels in the selected countries in order to increase the competitiveness of these leagues.
That's all for today, have a nice day!
Author:

vlady
-
Translator:

vlady
Share on Facebook
Share on Twitter
Share on MySpace