Special Valentine's Event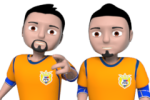 Hi friends,
love is in the air. Can you feel it? The Valentine's Day is coming and we wanted to give you a special present this year. A bonus of up to 25% on purchase of credits from now all the way until February 19, 2015, 18:00 CET. The Valentine's package includes:
for €13.90 you get 100+10 = 110 credits (10% bonus)
for €23.90 you get 200+30 = 230 credits (15% bonus)
for €35.90 you get 350+70 = 420 credits (20% bonus)
for €135.90 you get 1400+350 = 1750 credits (25% bonus)
The above bonuses apply to Wire transfer, Credit or debit card, PayPal and Skrill. You can also get bonuses if you buy credits via paysafecard:
for €10 you get 65+7 = 72 credits (10% bonus)
for €25 you get 200+30 = 230 credits (15% bonus)
for €50 you get 420+84 = 504 credits (20% bonus)
So what are you waiting for? Stop by the PRO Zone section to take advantage of this great deal.
Apart from the bonus on credits you can also look forward to a competition for a T-shirt and credits. The competition will take place on our Facebook page, so don't forget to follow us there.
New season in hockey
The 20th season in hockey starts on Monday and we would like to announce the list of countries where the league regrouping will take place this season. League regrouping is a mechanism which eliminates inactive teams from the 2 lowest league levels in order to increase competitiveness in these leagues. This season it will take place in the following countries:
Argentina, Canada, Czech Republic, Denmark, Estonia, Finland, France, Germany, Ireland, Latvia, Lithuania, Norway, Portugal, Russia, Slovakia, Slovenia, Spain, Sweden, Switzerland, Turkey
We wish you lots of love and have a good time with your significant other!
Author:

vlady
-
Translator:

vlady
Share on Facebook
Share on Twitter
Share on MySpace